By Treh Manhertz on May. 21, 2021
The Need for Speed: Almost Half of U.S. Homes Sell in less than a Week
In April, 47% of U.S. homes were on the market for less than a week before going pending. More than three quarters (76%) were on the market less than a month.
Like the Beatles in the early 1960s, today's hurried home buyers may be wishing there were eight days in a week — roughly half the homes that went pending in April did so in less than seven days.
It's no secret that homes have been flying off the market for months. But the already rushed pace of home buying in the face of limited supply and sky high demand that has characterized the market since last summer has only intensified with the onset of this year's busy spring home shopping season. In April, the typical home nationwide was on the market exactly one week before accepting an offer and going pending, with almost half (47%) accepting an offer in less than seven days, according to a Zillow analysis. More than three quarters (76%) went pending in less than a month. In April 2020 — when early pandemic uncertainty and strict lockdown orders temporarily froze some housing market activity — just 30% of homes went pending within a week, and 60% within a month.
And the need for speed isn't just being felt by those seeking the most sought-after — by speculators, first-time buyers and/or buyers on a budget alike — entry-level homes. Among the least-expensive homes, a slim majority (50.5%) went under contract in less than a week in April, up from 34.1% in April 2020 (a 48% year-over-year increase). An even bigger majority (54.6%) of homes in the middle price tier and almost half (48.0%) of homes in the top price tier went pending in a week or less in April, up 60% and 71% year-over-year, respectively.
The squeeze is also being felt in a majority of large markets nationwide. In 27 of the nation's 50 largest metros, a majority of homes went under contract in less than a week in April. In Columbus, Denver and Salt Lake City, a week was all it took for more than 70% of local listings to go pending. The share of homes going pending in less than two weeks was higher year-over-year in April in every single top-50 metro in the country except Memphis.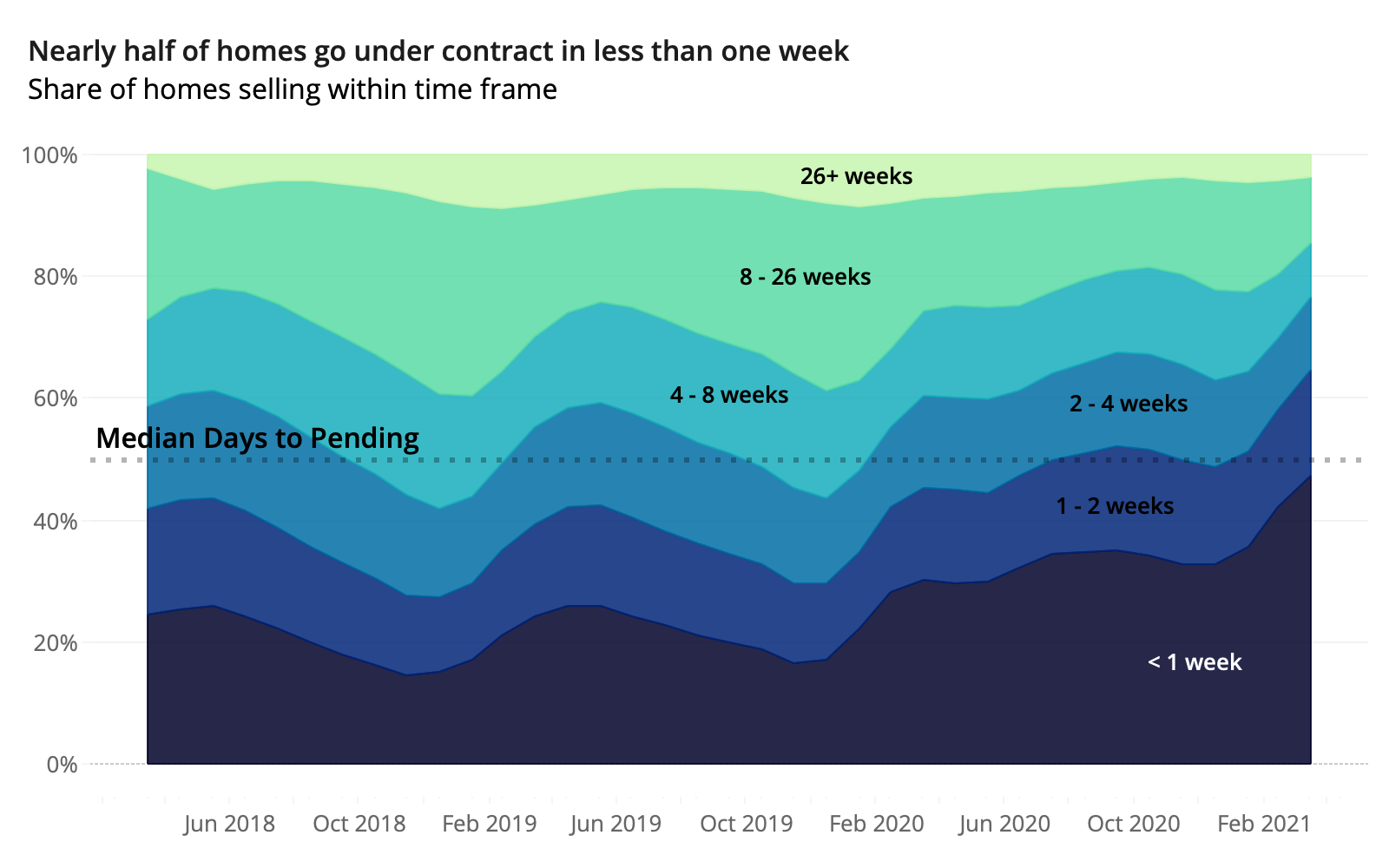 This incredibly fast-moving market is undeniably stressful for buyers and a good number of sellers too, who may feel on top of the world when they list their home and get a quick offer but then back at the bottom if/when they find themselves needing to find another home to buy. But this speed does have some practical advantages at a (very) macro level — one of the main reasons that inventory can keep falling as it has and sales overall continue to grow is precisely because of this faster market velocity. And unlike previous periods when demand for homes was high and time on market short, notably the pre-2008 housing boom, the market this time around is driven by sound fundamentals unlikely to fade anytime soon.
More inventory will — eventually — help cool the competition and bring some relief for buyers exhausted from having to move so quickly to secure a home. More than two-thirds (69%) of 100+ economists and experts nationwide recently surveyed by Zillow said they expect inventory to begin growing again later this year or in the first half of 2022. That may be small comfort to those in the market looking to buy now, but it's important to remember that patience is a virtue, and that the right home at the right price in the right place will make itself available at some point. When it does, those buyers best-prepared to pounce on it and move quickly — with all of their financial ducks in a row and with the advice of a trusted agent — will be most successful.
Read full article Here.